Welcome to the Kobato Wiki
Welcome to the Kobato. Wiki, a site dedicated to the manga and anime Kobato. by CLAMP. We currently have 149 pages! Of course, there are spoilers here, so watch out if you haven't read the manga or watched the anime.
Introduction
One day, to Chitose Mihara's guest house, arrives a mysterious girl who carries only a little bag, a blue dog-stuffed animal and a strange crystal bottle. The girl is Hanato Kobato. She is a celestial descended from a distant world to help the hearts of people who are wounded in order for the crystal bottle to fill; so she can go to the place she wants to. But there is a condition: Kobato is not allowed to fall in love with anyone whom she uses to fill the bottle.
Characters
The Kobato Wiki started in 2008, has 149 pages and is still growing and looking for contributors. If you have the care to contribute, we would appreciate it, no matter how small or big it is. Please note that no special experience is needed.

If you add some info, please be sure it is 100% correct!

If you have any pictures that relate to Kobato and wouldn't mind sharing, please upload them!

Kobato Wiki is still building! We could use all the help in the world!

If you have friends, invite them to view this wiki! Any kind of publicity is accepted!

Content
Contact Us
If anyone has a problem or anything else, ask one of the admins. They will be happy to help!
Helping Out
We need YOU to help us expand and add articles to this wiki!


For starters, please sign up to create a FREE personal account, or log in if you already have one.
---
Affiliates
Want to affiliate with us?
If you would like to become an affiliated site, please contact an administrator.

Latest Chapter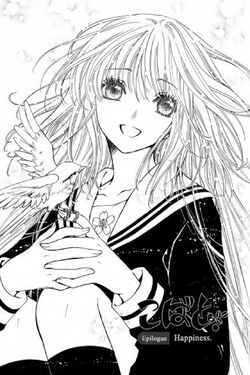 Epilogue
Latest Episode
Episode 24: The Day to Come…
Poll
For past polls, See: Poll Archive.